other

Rocky Mountain Harley Davidson in Colorado wanted a giant 3dimensional
20 foot x 20 foot foam replica of there logo.   Eyecandy Sculptures carved this in eps foam,
hard coated ,  painted and installed this in their showroom.
Red Bull used these 6 ft. long Indy car replicas
as displays in Walmart stores to promote an
upcoming race.   The challenge was to make these
durable enough for handling since they were easily
touched by the shoppers.
Another Red Bull display for City Market in Aspen, Colorado.
The tray in his hand and the pyramid inside the giant gondola
rotate on battery powered motors.
Coors brewery needed an archway for the entrance
of special events. The bases are stainless steel and
the Coors Light logo is made of foam and masonite.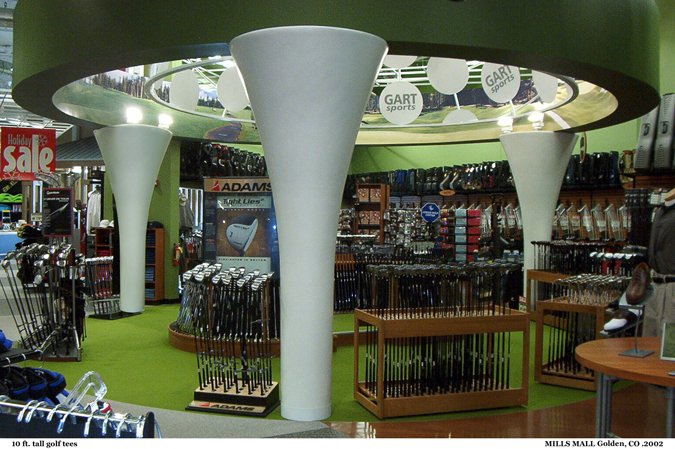 Sports Authority needed 11ft tall 3d golf tees
for this retail display. They wrap around the
steel I-beams that hold up the structure.
Palmer snowboards had Eyecandy Sculptures create 2 of
these 20 foot tall snowboard w/ light board sign.  This giant
prop was the 1st thing you saw when entering the store.
Specialized had us sculpt a huge foam water bottle
that could either  freestand or suspend from the
ceiling.  It's light weight but durable.
Park Meadows Mall in Centennial, Colorado used this
reindeer in a chair for photos.  It's part of  their
Christmas display.