Previous Post:
Spraying plastic hard coat onto foam props
&nbsp Next Post:
CDOT billboard smashed car joint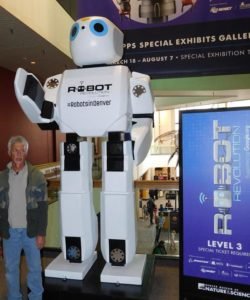 We made 3 of these 10 ft tall Darwin robots for DMNS.  They
were fun to make and the visitors seem to love as well.  With an
internal steel armature, lightweight eps foam & a polyurethane
hard coat shell they are light weight & durable.   Thanks to the
crew at the museum.
Tags: 3d display, foam props, robot