Previous Post:
Giant sculpted foam 3D Santa Claus for Denver Retailer.
&nbsp Next Post:
sculpted foam prop t shirt gun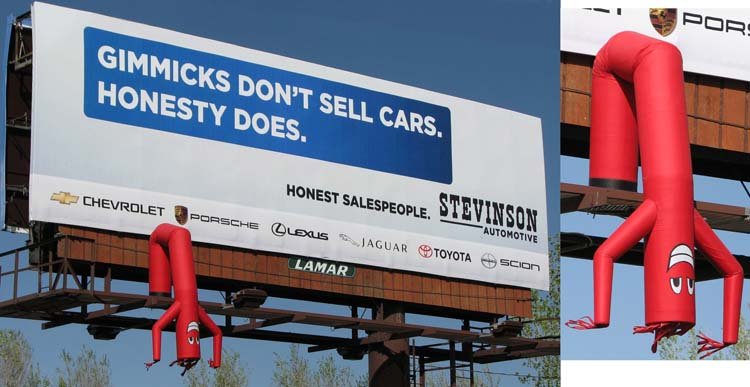 We built this crazy foam prop for a sarcastic billboard ad for TDA Advertising in Boulder Colorado.
It has a steel skeleton for strength, surrounded by a sculpted foam shape, coated in fiberglass. Then the
actual fabric was pulled over the shape. This build system allowed us to save the client a few grand on the cost.
The 3d billboard prop helps get the point across!
Tags: 3-D foam sculpture, 3D, 3d billboard, 3d displays, 3d retail display, 3d signage, 3d signs, 3dimensional billboard, carved foam props, Colorado, colorado props, decorations, Denver, Denver foam sculpture, display, EPS, foam, foam models, foam props Colorado, foam sculptor Colorado, foam sculpture, foam sculpture Colorado, foamcutter, hotwire, large, lifesize, models, party props, POP, props, rental props, retail, scenery, sculpted foam display, theme decor for rental, themed props, theming, tradeshow displays