Previous Post:
Colorado State Patrol 3 dimensional billboard prop.
&nbsp Next Post:
Tough teeth for 3d shark head sculpture at Denver Aquarium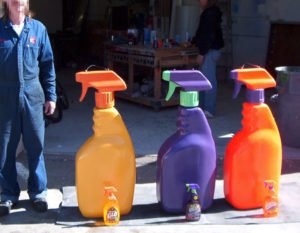 These retail product displays were made a few yrs. ago for OxyClean!
I just enlarged their products for a store front display. The customer needed
large, durable lightweight props to suspend from fishing line. No stain is
too tough for this spray bottle!
Tags: 3-D foam sculpture, 3D, 3d billboard, 3d displays, 3d retail display, 3d signage, 3d signs, 3dimensional billboard, carved foam props, Colorado, colorado props, decorations, Denver, Denver foam sculpture, display, EPS, foam, foam models, foam props Colorado, foam sculptor Colorado, foam sculpture, foam sculpture Colorado, foamcutter, hotwire, large, lifesize, miniature golf props, models, party props, POP, props, rental props, retail, scenery, sculpted foam display, theme decor for rental, themed props, theming, tradeshow displays