Previous Post:
Impact Confections Warheads P.O.P. displays for Six Flags candy stores
&nbsp Next Post:
another High Times pot prop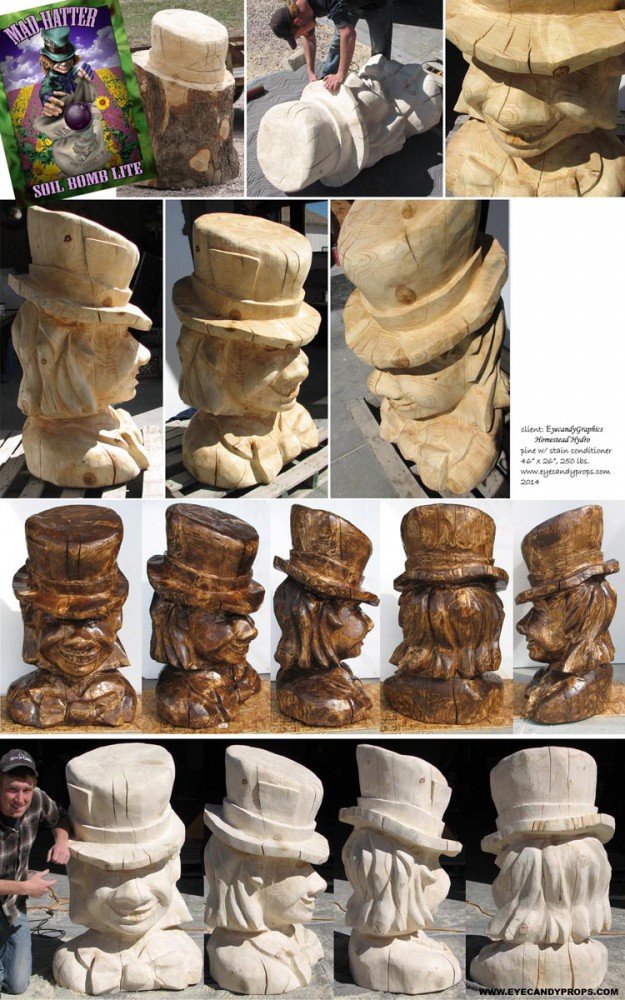 As medical & recreational marijuana are legalized in various states the need for advertising increases.
Eyecandyprops made this giant Mad Hatter log carving from a beetle kill pine. They exhibited at the
Cannibus Cup in Denver and wanted a more natural style display. So instead of hard coated eps foam,
we made this real wood sculpture. 250 lbs!
Tags: 3-D foam sculpture, 3d advertising, 3d billboard, 3d foam props, 3d sign, 3d signs, big letters, Billboards, cool props, custom display, eye candy props, eye candy sculptures, foam props, foam sculpting, foam sculpture, foam sculptures, foam sign, giant 3d letters, giant foam letters, halloween props, log carving, marijuana advertising, pop display, pot prop, putt putt props, sculpted signs, styrofoam sculpture, theming, wood carving, wood logo