Previous Post:
Big giant 3d toilet seat sign made of foam! Huh??
&nbsp Next Post:
3d foam sculpted arcade game w/ Winter X Game Theme for Impact Confections in Colorado Springs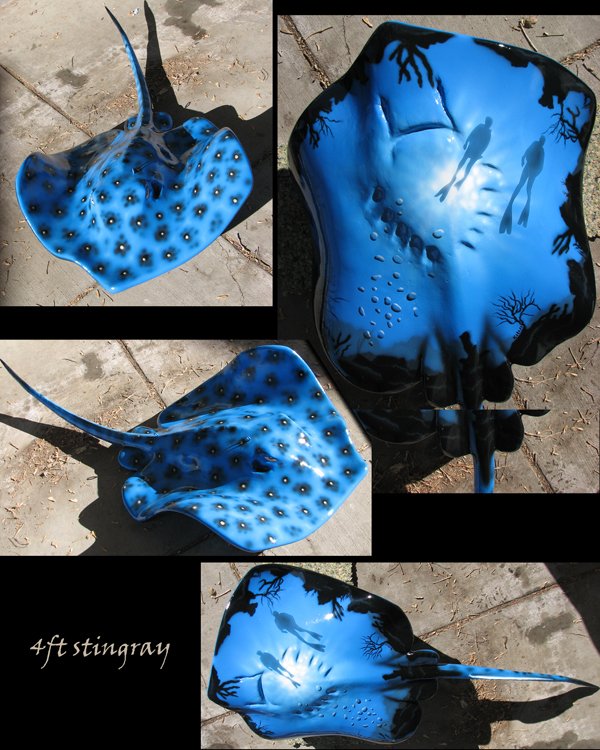 A1 Scuba and Travel in Englewood, CO. gives me some of the coolest projects!
This stingray is made of foam and was sculpted by hand and hardcoated with
urethane polyurea by Nostalgic Stone in Denver ,CO. This big 3d ray is just over
4 ft long. The aquatic retail prop illustrates both the prop making and finer realistic
painting Eyecandy Sculpture loves to do! .Keep'm comin!!!
Tags: 3-D foam sculpture, 3D, 3d billboard, 3d displays, 3d retail display, 3d signage, 3d signs, 3dimensional billboard, carved foam props, Colorado, colorado props, decorations, Denver, Denver foam sculpture, display, EPS, foam, foam models, foam props Colorado, foam sculptor Colorado, foam sculpture, foam sculpture Colorado, foamcutter, hotwire, large, lifesize, models, party props, POP, props, rental props, retail, scenery, sculpted foam display, theme decor for rental, themed props, theming, tradeshow displays