Previous Post:
Giant foam sculptures for Colorado artist Doris Laughton Smith
&nbsp Next Post:
Faux bronze hard coated foam sculpture display for Louisiana business.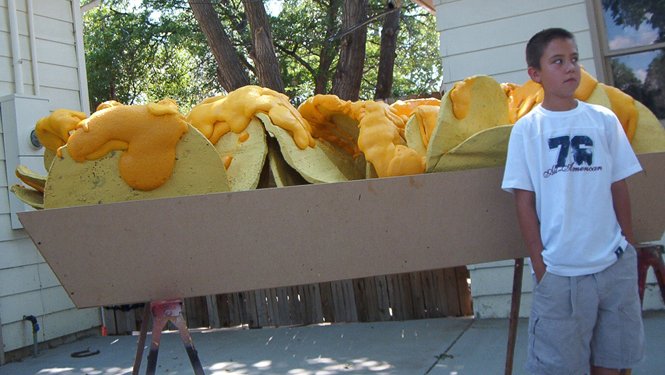 Carts of Colorado hired us to make giant 3d faom nachos for the top of one of
their vending carts. The giant foam sculpted food was displayed at a local tradeshow.
The cheese was the hardest to make convincing. I think we nailed it! The wooden tray
was temporary and replaced w/ a tray that looked like paper.
Tags: 3 dimensional signs Colorado, 3-D foam sculpture, 3d advertising Colorado, 3d advertising westminister, 3d billboard, 3d displays, 3d retail display, 3d signage, 3d signs, 3dimensional billboard, Arizona, big 3d props, billboard props, Colorado, colorado props, Denver, Denver foam sculpture, foam props Colorado, foam sculptor Colorado, foam sculpture, foam sculpture Colorado, foam sculpture Colorado springs, giant fake foam food, giant foam food display, sculpted foam display, sculpture aurora, theming, trade show displays Big 3 dimensional foam props for Colorado Casino, tradeshow display Colorado